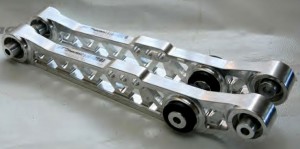 Civic / CRX Rear Lower Control Arm With Spherical Bearings
Model #: F7-EFRLCA-SP
Retail Price: $389.99
Our Price: $324.99
You Save $65.00 (17%)
call for details
Function7 Rear Lower Control Arm With Spherical Bearing. Designed for hardcore race use.
Aerospace-grade, oversized teflon-lined spherical bearings.
These include full width bushing journals.
Each LCA is micro-engraved to asure genuine Function7 item.
Usually In Stock
Will Fit:
89-91 Honda Civic / CRX
92-95 Honda Civic 2/3/4 dr
92-98 Honda Del-Sol
94-01 Acrua Integra (Except Type R Model)
Item ships within 1-2 business days from purchase date.